JAN 5th 2013 - FantaSize 2 Donations Campaign Underway!
---
Darkain Arts is finally getting back to it's roots with an IndieGoGo campaign to fund a sequel to FantaSize! We've been so busy in the later half of 2012 that it's come to the point that preorders would allow us the time to finally sit down and animate FantaSize 2.
The site even features a teaser trailer for the sequel revealing the location and some characters that will in included! This time around Misery will have a lot of costars to interact with, not just the shrunken people in her life.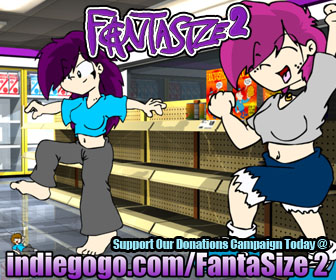 SEPT 12th 2012 - Darkain Arts Gamers! New Video Game Blog!
---
News has been slow over the summer as the Darkain Arts crew has been slowly leaving other day jobs and reoganizing to focus on studio projects. Naturally this means a larger focus on FantaSize 2. The biggest news there is a donations campaign trailer is in the works. This is mainly to help keep us funded at the drawing board, making the content you're eager to see! More news on that soon, but again, be sure to keep updated on our Darkain Arts DeviantART account!
On top of that we now have Darkain Arts Gamers on the go with the contributing help of our dear friend Jason Nason! Our Gamers section focuses on video game news and our reviews of games and related media. I've personally been reviewing a few games for a friends site recently and apparently you fine folks like what we do! So now you can keep up with the news of what we're playing when taking a break from our animation projects.

MAY 28th 2012 - New Webcomics Announced At Anime North!
---
This year at Anime North Les Major announced some great new content that's on the way to DarkainArts.com! To start with the zombie apocalipse series that takes place in Sarnia, Ontario, "Resident Sarnia" will be beginning in the coming couple weeks. Also the series we pitched for television before FantaSize had begun is also becoming a webcomic, "Pristine Tribe" (see rough sample art below). Finally, last but not least a previously completely unannounced series was mentioned during the opening ceremonies to much excitement, our own take on H. P. Lovecraft stories in the third upcoming webcomic to the site! Best of all, all of this content is FREE! Tell your friends! Spread the word! We'll be adding pages as time goes on to the various free webcomics and all we is for you to enjoy them.


FEBRUARY 10th 2012 - Medieval Canada Webcomics Returning!
---
It's been years since the Medieval Canada webcomic first delighted fans. Now it's finally making a return starting with a relaunch of the entire first series of strips and then a continuation shortly thereafter. We may be enhancing them in the process too considering how tiny they were back in the day.
Medieval Canada is an important landmark for Darkain Arts. We were just about to give up on animation when we began working on MC as a last effort as a contest entry. The response was overwhelming and quickly the site and studio became quite popular with everyone coming to see the promotional MC webcomic series. By the time we heard that MC wasn't accepted into the contest it was made for, we already had such a fanbase that there was no question Darkain Arts would continue to make animation.
For more about Medieval Canada be sure to check out the classic animated short on our Darkain Arts YouTube Channel.
After such success with the MC webcomics and short, we began working on another project, FantaSize. Originally planned to be a very basic animation, the release of FantaSize's trailer video was so overwhelming we hurried back to the drawing board. Since then FantaSize has enjoyed very much success and thanks to fan support we are progressing on a sequel. The original is available on DVD from our studio store.
Fans interested in our FantaSize artwork, we have been adding lots to our deviantART page which you can check out here: darkainarts.deviantart.com/
We appreciate your patience over all this time as we've continued to produce FantaSize 2 and many other side projects along the way. We're hoping to have something new to share with you later this year but in the meantime we will be updating with lots of info on our various projects.